In the early hours of Saturday, 9 September, Ciara Frederick (16) was on her way to her boyfriend's house at Nau-aib, Okahandja, when unknown assailants attacked her. Ciara, who was eight months pregnant, was stabbed in the chest with a sharp object.
She succumbed to her injuries on the way to the Okahandja State Hospital, the police say.
Before her death, her mother, Petra Frederick, heard her screams.
She ran outside to find her daughter lying in a pool of blood in an isolated area not too far from the family's house.
Her assailants had fled the scene.
The Namibian on Thursday paid the family a visit.
Ciara's grandmother, Francisca, said the area where she was killed is very dark due to the absence of street lights.
She said by the time Petra reached her, Ciara was vomiting blood.
"That area is very dark, so they had to use the flashlight [from their cellphones] to see where the blood was coming from," Francisca said.
They had to carry the teenager to a nearby lamp post to properly assess her injuries, she said.
Francisca said they waited for an ambulance for three hours.
In a desperate plea for help, the family stopped a passing police car, she said.
A female police officer then tried to resuscitate Ciara, she said.
Their desperation was met with the devastating news that the nearest ambulance was in Windhoek, a delay which would prove fatal for Ciara.
"When we asked them to call an ambulance they said none were available, and that the only one was in Windhoek," the grandmother said.
Francisca said Ciara was pregnant, and when the police arrived the baby was still moving, and Ciara was faintly breathing.
The owner of a nearby club offered to take the girl to hospital.
Francisca said she went along to the hospital, but had to call home to tell the family Ciara did not make it.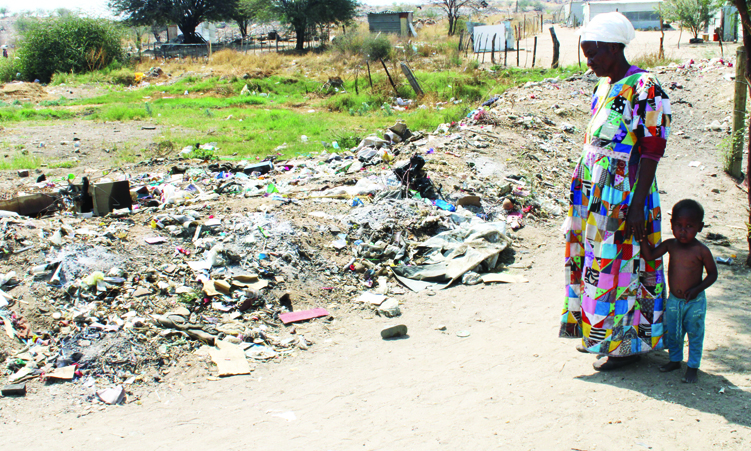 Francisca said hospitals and police stations are found in the central part of the town, which makes it hard for residents living in informal areas to access.
"Okahandja is a very peaceful town, but we implore the government to give us more ambulances and police stations in the location to avoid this tragedy from happening to our kids," she said.
National police spokesperson deputy commissioner Kauna Shikwambi on Friday said the magistrate's court should be contacted if any suspect is arrested and referred The Namibian to the police report.
Petra remains inconsolable after her daughter's death.
"I don't have anything to say. The person who did this is still out there," she said.
Community leader Seth Gariseb yesterday said the incident could've been avoided had there been street lights to light the way for Ciara.
Gariseb called on the government to provide the town with services such as mobile police stations and clinics to reach the informal locations.
"If local authorities provided street lights for the location, this would not have happened.
"It was dark when the girl was attacked and the neighbours could not come out as they fear for their lives too.
"What we are asking from the government is to instal street lights and provide mobile services like mobile police stations and clinics," he said.
The Namibian tried to reach out to Okahandja municipality chief executive Alphons Tjitombo on the matter, who referred the newspaper to a previous report in which he was not available for comment.
Otjozondjupa regional health director Gerbardo Timotheus yesterday said: "When I heard this it was already seven days after the incident. When police arrive at a scene they normally alert us, and vice versa. Had our offices been informed sooner we would have acted accordingly."
Timotheus said the doctor tending to Ciara has told him she was stabbed in the heart and for her to have survived would have been a "miracle".
He said by the time the hospital was alerted of the incident, an ambulance was on its way to Windhoek with a sick baby.
Timotheus conveyed his condolences to Ciara's family.
"I believe next time our response team, from the police and from us, will try to be on time to save lives where we can. It's really a pity, and from my side I would like to convey sincere condolences to the family," he said.